Are Leaking Appliances Causing Your Florence Kitchen to be a Hot Mess?
11/1/2018 (Permalink)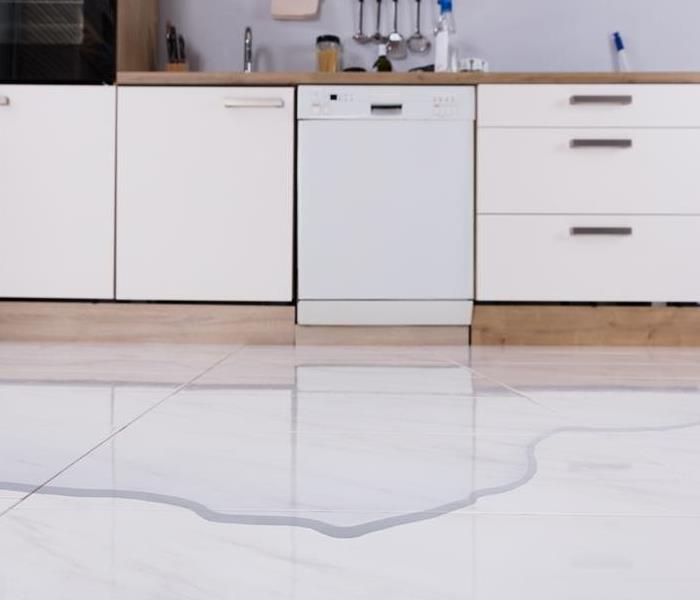 Water from this dishwasher leak is already being absorbed into the flooring and cabinets. Call SERVPRO to remove the water and restore your home.
SERVPRO Restoring Water Damaged Homes in Florence
Florence residents are relatively safe from the weather and floods, but those are not the main risks to an area home when it comes to 'squishy' carpets and other water problems. In our experience, failed appliances and devices like dishwashers and water heaters cause much of the damage to floors, carpets, and furniture.
For SERVPRO, remediating water damage to Florence homes means getting standing water out of the home, determining what is repairable (or disposing of property too damaged for restoration), and drying the structure and property.
Our technicians start with either pumps or extraction wands to remove the water while one of our inspectors inspects the property for damage. A failed water heater can drop 60 gallons or more onto the floor in seconds. If it fails to shut-off automatically, the broken tank can continue to spill water throughout the home. Once a team member shuts off the intake line, others use the pump to remove water. In most homes, this takes at least one or two days.
If the water was a small amount from a dishwasher, then the water level is low and generally isolated to the kitchen. Technicians use the extraction wands to remove water from the surface and then push out any remainder using mops or squeegees. Regardless of the amount of water they remove, team members bring in air movers to direct warm, dry air over the damp floors to speed up the drying process.
These machines are especially useful to restore carpets to their original condition and prevent delamination. That is the separation of the top and bottom layers of the carpet when it absorbs too much water for too long.
As technicians remove the water, a SERVPRO inspector examines the property and directs other team members to remove restorable items to an unaffected part of the home or another location. They place the furniture and other items on blocks or bricks so that excess water can drain away. If they can lift property out within a few hours of the water spill, technicians can save almost everything except for paper (i.e., books and magazines). To increase the rate of drying, they can set up air movers and fans to direct warm air and increase air circulation if needed.
Our goal at SERVPRO of Casa Grande is to remove water and reduce the amount of damage to each home as quickly as possible. If you have had a recent water spill in your home, call us today at (520) 421-1894. We are here for you.
McFarland State Park is located in Florence. Click here for more information.