Why We Are The Right Choice In Arizona Mold Damage Restoration
2/1/2020 (Permalink)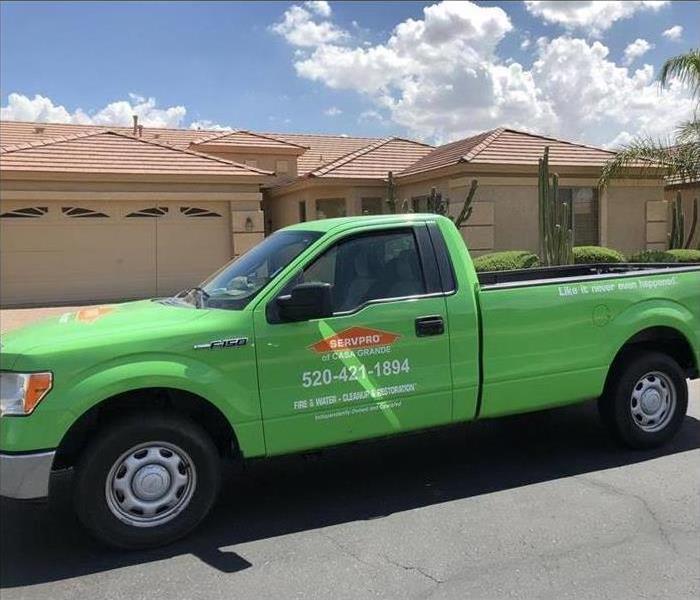 Our Green Fleet trucks arrive right away when you discover mold damage in your home. We have the expertise, equipment and experience necessary.
Noticing Musty Odors in your Arizona Home? You might need Mold Damage Remediation.
Mold Damage Arizona
The presence of musty odors in your home may be a sign of mold growth. These microbial fungi can affect indoor air quality, spread quickly, and damage the building materials of your home. Typically, mold infestations feed on porous materials like drywall, insulation, and sheetrock but can take root in almost any of the home providing the conditions are right. Usually, we find that mold growth occurs in areas of the home that have regular exposure to moisture. These areas may include wetrooms like bathrooms, showers or kitchens, and areas of the home that lack quality insulation. Attics, crawlspaces, basements, and garages can be particularly vulnerable to microbial growth. These areas frequently have a lack of insulation and more exposure to outdoor elements, which can lead to condensation issues that provide the moisture microbes need to grow.
Rectifying mold damage in your Arizona home may require both construction and remediation expertise. When molds are in the presence of moisture, they can proliferate rapidly and often without a consistent light source. Since the light does not inhibit the growth of mold, it can often reside inside walls, lofts, or beneath your floor. SERVPRO technicians may need to remove physical barriers temporarily to assess and remove the affected materials.
The general principle of any mold removal is to remove areas where the infestation has taken root to protect the unaffected area. This technique may involve SERVPRO technicians performing controlled demolitions in the home. Controlled demolitions can lead to mold spores- the reproductive element of mold- to become airborne and spread throughout the home. We combat airborne spores by using a large negative air pressure machine in the affected area to prevent spreading. Sometimes it may be necessary to use plastic sheeting as well.
There is a high risk of cross-contamination when dealing with mold damage issues. Spores are microscopic and can travel on air, clothing or materials. Failure to contain spores can cause mold to return shortly after remediation. We can deploy air-scrubbing equipment to filter your indoor air and ensure that the removal of mold spores from the affected area is complete.
If you suspect mold issues in your home, seek out professional help. Contact SERVPRO of Casa Grande at (520)- 421-1894 now.
See more about Arizona.