Prevent Further Spread Of Fire Damage In Your Arizona City Home
2/21/2019 (Permalink)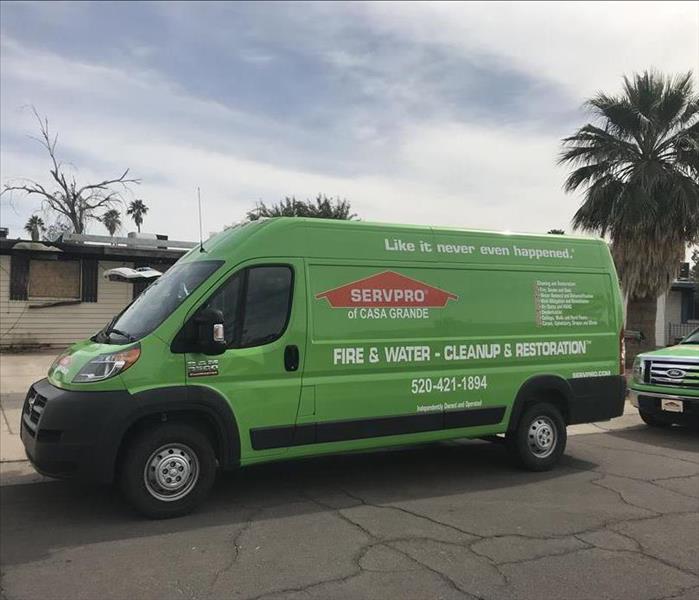 Rest easy when our experts arrive we will use the proper equipment to restore your home of any damage big or small. Call us today!
SERVPRO Fire Damage and Deodorization Techniques in Arizona City
Immediately after a blaze in the home, looking around at the fire damage even from a small fire can seem overwhelming. The two most common places for fires in homes in Arizona are the kitchen and garage. Both areas have the potential to deliver high-heat fires that melt plastics and synthetics, leaving an oily, wet smoke residue that lingers with a strong odor. The longer you wait to begin the restoration process, the more residues and odors can penetrate objects in the home as well set up for the invasion of mold if water remains from putting out the fire.

When SERVPRO technicians work on a kitchen fire in a home in Arizona City, we immediately access where the damage occurred in the home and contain it to stop the further spread of soot and odors to currently unaffected areas. Handheld wet vacuums can effectively remove standing water from cabinets and weep holes drilled in the back allow air circulation to dry behind cabinets and inhibit setting up a future home for mold growth. Why SERVPRO? Our IICRC certified technicians are available 24-hours a day to mitigate your loss from fire.

After water removal is complete, our technicians employ different methods to dry the kitchen thoroughly. Air movers are positioned to move the air up and out and penetrate the cabinet spaces and baseboards may be removed during the drying stage to ensure no residual moisture remains. Powerful antifungals cleaners used after drying further deter the growth of mold and bacteria.

After drying, technicians may choose to use air scrubbers and hydroxyl machines. These are particularly effective because they catch and bond to hidden soot particles in the air, which reduces odors. For a high-heat fire, which is common for fires in the kitchen, our Odor Control Technician (OCT) uses thermal fogging, a method that works on the same principle that allowed smoke to penetrate porous objects, a heated fog neutralizes and deodorizes foul odors left by the fire and water. As you can see, we have numerous resources for restoring a home and contents after the loss from a fire.

Our SERVPRO of Casa Grande fire damage restoration technicians serve the local communities with our emergency services. Call (520) 421-1894 any time day or night, and we can begin restoring your home to normal within hours.
Plan a visit to the Farmers Market click here for more information.