What Few People Know About Drying Crucial Papers in Maricopa After a Flood
12/6/2018 (Permalink)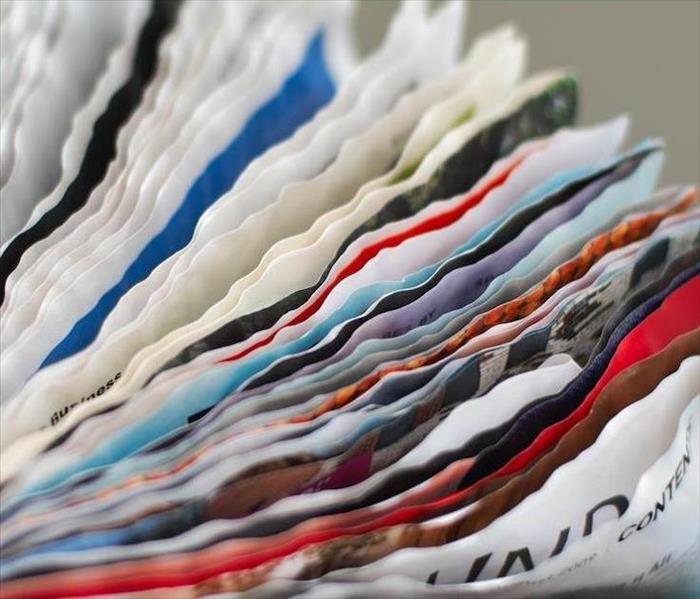 When important documents get wet during flooding or water damage, there are options to restore them. Contact team SERVPRO to discuss.
Helping You Protect Your Documents From Flood Damage in Maricopa
Washing your driver's license in the washing machine is a common occurrence, but can still cause panic for many people in Maricopa. Other documents do not fare as well as the laminated licenses. Stock certificates, deeds to houses and other real estate, wills, historical items detailing past events in your family, and many others do not have the protection of lamination.

When it becomes safe enough to re-enter your house after a disastrous flood, keep in mind that flood damage in Maricopa can affect your more fragile items, also. Carefully handling these items can diminish the chances of tearing them. Place them inside a plastic bag so that you can freeze them. Freezing stops the damage from continuing.

We can use a process called lyophilization, which strips the water and any absorbed moisture from your documents. We can also treat books and magazines this way and save them from destruction. The process is not perfect and existing damage, including bleeding, does not go away during the restoration. However, the final result is always better than leaving things as you find them and hoping for decent results with mere air drying.

Drying out documents may not suffice, however, as mud and silt can also cause problems for paperwork and other fragile items. Sand can rub away at the surfaces of papers and cards, removing ink and the high-gloss finishes on papers. Certificates and awards, especially those with seals and ribbons can become rippled and wavy from even slightly elevated water vapor amounts in the air. Photographs and paintings on your walls can become sticky, pick up dust, and develop mold.

Finding much more than just your driver's license and other basic identification cards all through your home means getting things dried out quickly can help prevent any such damage. We remove any remaining floodwater and saturated floor coverings. Carpeting, pad, laminate, and other wood composite floors cannot remain inside your home after we start mitigating flood damage.

We use Injectidry for its versatility. We can dry out barely-touched walls and save them, or work on wood floors to keep them from buckling and twisting. Each portion of your home that we remove water from becomes that much safer for the documents and other paper-based items that mean so much to you and your family.

SERVPRO of Casa Grande understands how important your documents and memorabilia are to you and others in your home. We provide mitigation services to the area around Arizola, Coolidge, and Florence, so please do not hesitate to call us at (520) 421-1894 when flood damage strikes your property.

Click here for more about Maricopa.